Our Services > General Dentistry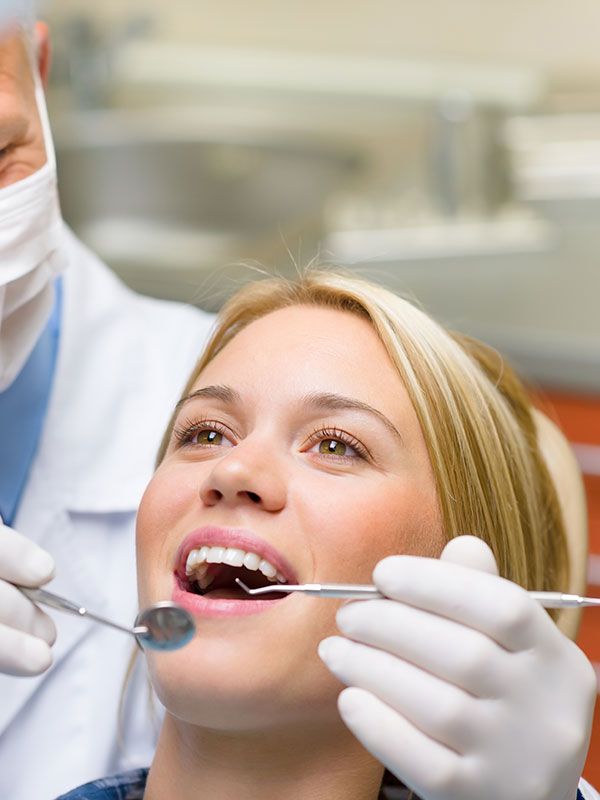 Clarksville Maryland Family Dental Office

Here at Clarksville Crossing Dental we focus on all aspects of general dentistry for the entire family. A healthy, strong smile requires regular maintenance, and that's why we recommend a comprehensive dental checkup in our office every six months for every member of the family.
At each of these appointments, our team will examine your teeth, gums, occlusion (how upper and lower teeth fit together) and any of your existing dental work. At this checkup, you'll also have your teeth cleaned by our dental hygienist. She'll remove the plaque and tartar buildup that causes bad breath, gum disease, and tooth decay. Then she'll polish your teeth to a silky smooth and shiny finish.
General Dentistry and Periodontal Disease
As we examine your teeth and gums, we are specifically looking for signs of tooth decay or damage and periodontal disease. Of course, if we find evidence of either of these dental problems, we will discuss with you the appropriate treatment. In the case of tooth decay, for example, we will repair the tooth with a tooth-colored filling that is made of composite resin. Not only does this material match the color of your existing teeth, it is also strong and preserves more of the natural structure of your tooth than old-fashioned amalgam fillings.
Throughout the dental exam, the dentist or hygienist will:
Evaluate your overall health and oral hygiene.
Evaluate your risk of tooth decay, root decay, and gum or bone disease.
Evaluate your need for tooth restoration or tooth replacement.
Check your bite and jaw for problems.
Remove any stains or deposits on your teeth.
Demonstrate proper cleaning techniques for your teeth or dentures.
Assess your need for fluoride.
Take dental X-rays or, if necessary, do other diagnostic procedures.
Our Other Preventive General Dentistry  Services
Your dental checkup is not only the time for us to monitor your oral health, this is also the time for you to mention any bothersome symptoms you're having. For example, be sure to speak up if any of your teeth are giving you pain, or if you notice an increased sensitivity to  heat or cold as this may be indicative of a serious condition, such as internal damage or an infection. Either one of these circumstances may necessitate root canal therapy.
Our Diagnosis and Treatment of Sleep Apnea
Are you feeling tired during the day? Do you have other almost mysterious symptoms such as morning headaches, trouble concentrating and maybe even depression? These can all be a sign of sleep apnea, a chronic condition that momentarily halts breathing repeatedly throughout the night. We can treat this breathing problem here in our office with a highly effective oral appliance.
To learn more, or to arrange an appointment, please feel free to give us a call at (410) 531-2600.
Schedule Your Appointment
If you're a new patient interested in arranging a first visit to our office, please feel free to give us a call at (410) 531-2600, or to contact us here through our website for more information.
If you have already scheduled your first appointment and would like to streamline your arrival, the patient forms below may be downloaded and filled out for you to bring with you when you arrive.